Expand your network and work with companies, universities and research institutes from all over Europe on innovation projects and new technologies. EIT Manufacturing, the largest European network for the manufacturing industry, will help you.
Attend free workshop Innovation in Manufacturing on 31 March 2023 at CIIRC CTU in Prague and learn more about the many support options offered by EIT Manufacturing. Program offers presentations by leading experts from the industry and representatives of EIT Manufacturing.
Innovation in Manufacturing: How to Find Partners and Funding with EIT Manufacturing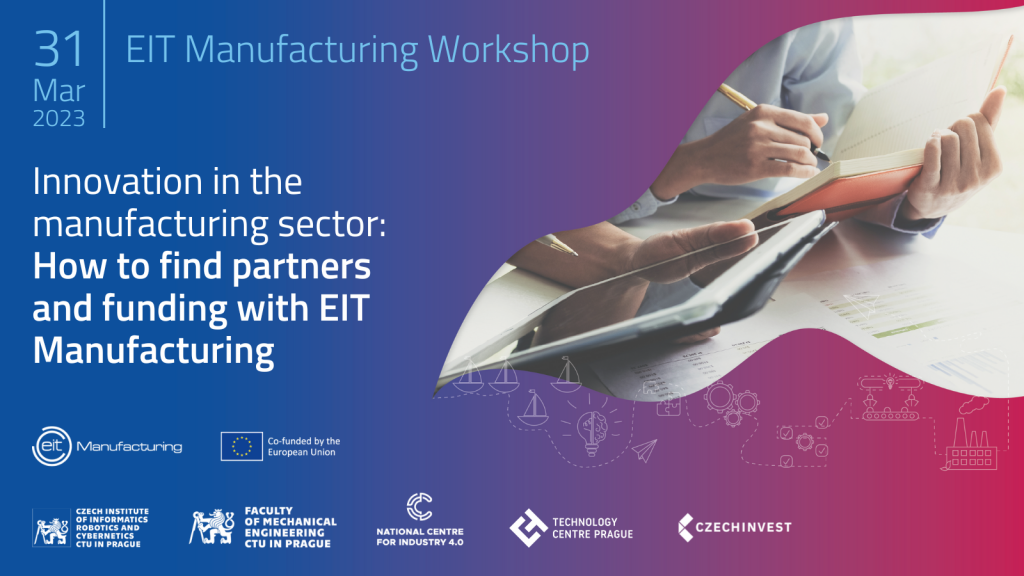 EIT Manufacturing CLC East in cooperation with the Czech Technical University in Prague, namely CIIRC CTU, FME CTU and National Centre for Industry 4.0 with the support of Technology Centre Prague and CzechInvest invite you to a free workshop:
31. March 2023, 9:30 – 14:00, CIIRC CTU, building A – 10th floor (Penthouse)
The event is designed for all actors in manufacturing and production:
Producers and manufacturers
Technology innovators
Start-ups and Scale-ups
Technology and application engineers
What you will get by attending the workshop:
An overview of many support options offered by EIT Manufacturing
Concrete presentations and best practice by leading experts from the industry from Germany and Austria
Open financial calls and topics for this year and how to participate and apply with your innovative projects
Benefits of EIT Manufacturing for your company operations
Best ways to find the right industrial partners across Europe
Inspiration from past projects and activities
Personal meeting with representatives of EIT Manufacturing
Networking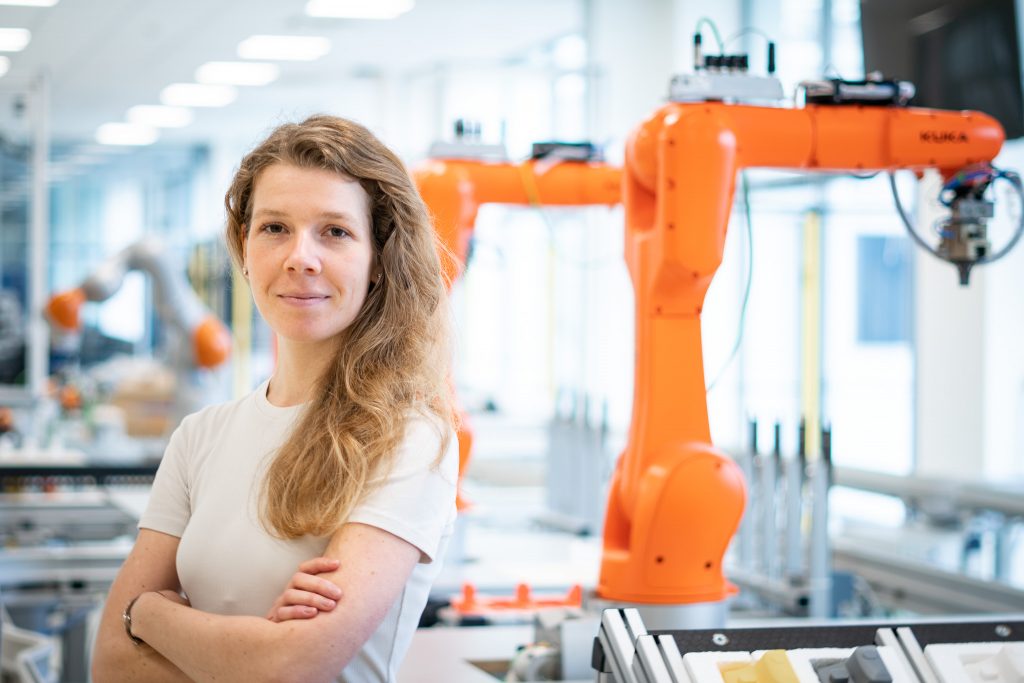 How can EITM help you get your idea on the market? Read an interview with Megi Mejdrechová, founder and CEO of start-up RoboTwin, and get inspired.
Program
Official language of the event is English.
9:30 – 10:00 Registration
---
10:00 – 10:05 Welcome and Opening Remarks
---
---
---
11:05 – 11:25 Selected Projects Implemented with CTU Participation
ConFacts II | Pavel Burget, Head of Testbed for Industry 4.0, CIIRC CTU
The ConFacts project aims to help companies to take advantage of the potential of digital transformation. It focuses on technology solutions for smart manufacturing ecosystems, and the key enabling technologies such as IIoT, edge computing, data collection and evaluation in cloud. The project partners provide companies with modular demonstrators to test real production problems and create digital training courses to up-skill their staff.
---
EITM educational projects | Petr Kolář, Head of Research Center of Manufacturing Technology, Faculty of Mechanical Engineering CTU in Prague
A number of educational projects implemented at the CTU in Prague have created modern educational programs for industry focusing on the topics of modern manufacturing: digital twins and the potential of their use for the preparation, testing and optimization of NC machining strategies, condition monitoring of machine tools and processes as a means of increasing production efficiency, smart manufacturing systems and flexible automation, industrial robotics, or modern approaches to manufacturing using additive and hybrid technologies.
---
11:25 – 11:45 Coffee break
---
---
12:20 – 12:35 Introduction of the EIT Manufacturing Hub Czechia
Anna Tahovská | Project Manager, CTU
Alena Burešová | Senior Manager for Industry, National Centre for Industry 4.0
---
12:35 – 12:45 Insight: Enterprise Europe Network
Silva Jirásková | Coordinator of the national consortium of the Enterprise Europe Network, Technology Centre Prague
---
12:45 – 14:00 Lunch and networking
---
13:10 – 14:00 Guided tours in the Testbed for Industry 4.0 with presentations of specific areas of possible cooperation and examples of already implemented projects

---
Registration
Participation in the event is free after prior registration. The number of places is limited. The event is intended mainly for company representatives.